No matter what the size of your yard is, you need to take good care of it. This typically involves trimming, pruning and cutting tree branches. For all these jobs, chainsaw is the ideal tool. The big question is how to choose from the wide variety of models. I have a great experience in buying such tools as I have a big garden which I love caring for.
I want to help others by reviewing popular models. I'm sure that this will be of help to all shippers. Read my review of the OREGON Cordless 40 Volt MAX CS250-A6 chainsaw.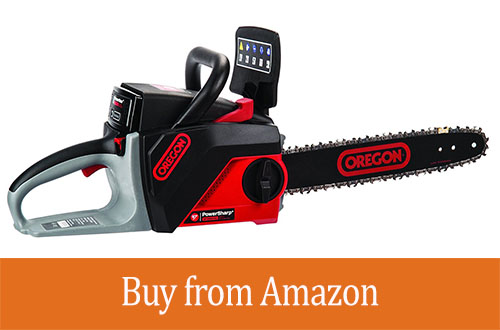 About the Product
This chainsaw is equipped with an electric motor, which is powered by a lithium ion battery. The tool is operated cordlessly. It has a 14-inch bar and weights just over 9 pounds. One of the most notable features of the model is the PowerSharp system for fast sharpening of the saw. Let's take a closer look at the features of OREGON Cordless 40 Volt MAX CS250-A6 chainsaw. You can expect detailed and objective evaluation on my part. This review will focus on the 4.0 Ah battery back.
Features and Benefits
The 4.0Ah 40V MAX Lithium Ion battery is the primary feature worth your attention simply because it makes the chainsaw stand out. It increases the runtime of the tool by two thirds compared to OREGON CS5250-E6. The manufacturer has estimated that you can cut as many as 400 tree brunches with thickness between 2 and 3 inches on a single battery charge. This is pretty impressive. You won't have to interrupt your work and wait for ages for the battery to get charged.
The battery uses premium cell technology, which contributes immensely to the smooth performance of the tool. You can expect to get constant power without episodes of fading or complete stops. This is extremely important when you do a more challenging job or require a greater deal of precision.
Another huge advantage of the technology is that it allows the battery to store power for months. I'd like to point out that the battery comes with a standard charger. It works very well and is quite quick to charge the battery.
The trigger start makes OREGON Cordless 40 Volt MAX CS250-A6 chainsaw very easy to work with. The motor begins to run instantly. There is no need for preparing the tool for operation. If you have used a gas-powered chainsaw before, you will certainly be happy to ditch the ritual involving the mixing of gasoline and oil.
The 14-inch bar makes this electric chainsaw ideal for trimming and pruning. It's great for removing tree branches and cutting small trees. You can do practically all major cutting tasks around the yard with it.
The PowerSharp system works to sharpen the chain directly while you are doing your work. There is no need for any special effort or skill on your part. This is a fantastic feature to have as it enables the chainsaw to work reliably and effectively at all times. Additionally, the chain's tension is easy to adjust. You can achieve great precision just by turning the knob on the side of the unit.
The design of OREGON Cordless 40 Volt MAX CS250-A6 chainsaw is worth looking at too. The tool is very well balanced so you shouldn't feel fatigue just a short while after you have started using it. With its 9.3 pounds of weight, it is fairly light and this also contributes to the ease of use. The front handle is very comfortable and allows for firm grip.
Pros
The primary advantages of the OREGON Cordless 40 Volt MAX CS250 chainsaw are:
Cordless operation – Forget about the cord getting in the way of your work. You will have all the flexibility which you require.
Reliable battery – It supplies power to the motor smoothly and without interruption. It has a very large capacity. It is fairly quick to recharge and can store power for a long time.
Quick start – You don't have to spend time getting the chainsaw ready. You just need to pull the trigger to start cutting.
Easy adjustment – It is simple to adjust the tension of the chain. You don't need to put any effort into the chain's sharpening either.
Excellent performance – The chain is always sharp and the supply of power is constant and smooth. Thanks to the lightness of the unit, you can operate it with maximum accuracy.
Quiet work – The tool has been designed to reduce the vibration coming from the motor. This allows for quiet operation. In fact, it has been estimated that it is four times less noisy than a gas saw.
2-year warranty – This is the standard warranty for all cordless tools of the brand and this chainsaw is no exception. It is sufficiently long and reliable. It is worth noting that it is applicable to residential use of the tool only.
Cons
Negative sides of the product worth your attention:
Instant charging isn't an option as you have to wait for the battery to get cool – This is not something surprising, but I thought I should mention it to help you get a better idea of how quickly you can expect the battery to get charged.
You need to add oil fairly frequently – This isn't a serious drawback since this is practically the only maintenance task which you have to do. Still, you must never leave the chainsaw without proper lubrication as this will have an adverse impact on its performance and useful life.
Conclusion
What's the verdict of this OREGON Cordless 40 Volt MAX CS250-A6 chainsaw review? The tool is a great choice for all those seeking quick and effective cutting and reliable cordless operation. It doesn't require any special maintenance. It is very easy to use even if you don't have previous experience.
You can forget about time-consuming preparation or the need to mind the cord. You can expect the chainsaw to keep doing a good job as time passes. It may be just the right tool for you.