Want to get rid of some tree limbs which get in the way of your home's view? Looking to cut some firewood for the winter months? Having to clean up after a storm? Then you will need a chainsaw. There are many different options available and comparison shopping can get confusing, especially for someone who is buying such a tool for the first time.
That is why I decided to help fellow buyers by reviewing the most popular models which can be found in the market right now. Here is my Remington RM5118R gas chainsaw review.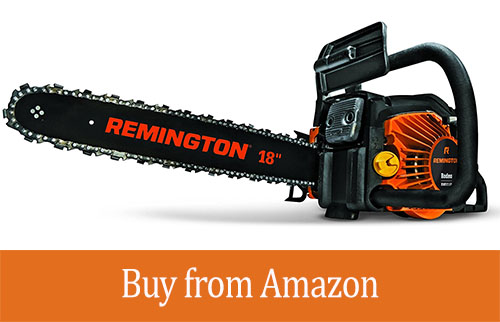 About the Product
Made by a renowned manufacturer, Remington RM5118R is equipped with a 2-cycle gasoline engine and an 18-inch bar. Some of the main features worth your attention include the QuickStart technology, the automatic oiler and the front and back handles designed to reduce vibration. Let me take you through all features of the model and evaluate each one individually.
After reading the list of pros and cons and my conclusion, you should be able to make a well-informed decision.
Features and Benefits
This chainsaw is equipped with a 2-cycle engine with 51cc displacement. It is quite powerful and completely reliable too. You can cut even hardwood timber quickly without any special effort on your part. The QuickStart Technology is one of the best features of this model, in my opinion. It enables you to start the engine with just one pull of the cord regardless of the weather conditions outside. You can expect the start to work perfectly even if it's cold and wet thanks to the electronic ignition.
The 18-inch bar is another one of the notable features of Remington RM5118R. It is long enough to make the chainsaw highly versatile. It is ideal for medium tree cutting jobs including storm clean-up. The tool is very easy to use for cutting tree limbs too. You can use it for firewood cutting with confidence. It can handle large and thick trees perfectly.
The low-kickback design of the bar limits the cutting area which is most likely to cause kickback. As a result, it helps to make the tool even safer to use. The sprocket tip and chain are very well designed and do their job without a hitch. The large bucking spikes give you better controlled cutting. It is great to be able to reach and keep a good level of precision. Generally, the chainsaw has highly durable construction.
The automatic oiler of Remington RM5118R reduces maintenance work considerably. You just need to add oil and the system will take care of the rest. It will lubricate the moving hardware parts to ensure smooth performance and to reduce the rate of wearing. The oiler is adjustable for maximum flexibility. As long as you choose the right product and fill the oiler when required, you will enjoy perfect operation.
You can expect reliable performance from this chainsaw for a long time to come thanks to the die-cast chassis. No matter how tough jobs you do, the internal components will stay well protected from damage. The tool is also equipped with pro-grade crankcase and sprocket which help to increase its durability even further.
Both the front and back handles of Remington RM5118R have been designed and made to reduce vibration. They have good ergonomics too. As a result, you can have firm and comfortable grip. This means that you can do more work more quickly without getting tired. One thing to note, however, is that this tool isn't at all the lightest which you can find with its 25 pounds of weight. Still, this is the price which you pay for having such a big and powerful chainsaw. This is no toy for small boys.
This model comes with its own heavy-duty case. You can have peace of mind that you will transport the tool and carry it around completely safely. The unit comes fully assembled so you can just take it out of the box and start working. Oil is included. Your job is to make sure that you will use the same or similar product when it comes to refilling the oiler.

Pros
The things which make the Remington RM5118R gas chainsaw stand out include:
Great versatility – This tool is an excellent choice for practically all cutting jobs that you can think of from the lightest to the toughest.
Hassle-free start – You just need to pull the cord once or twice at the most to get the chainsaw up and running.
Superb performance – The chainsaw is both big and powerful. You can expect it to turn perfectly and deliver excellent results.
Ease of use – You don't have to assemble the tool as this has already been done for you by the manufacturer. The settings including the chain tension are very simple to adjust even if you don't have much experience with chainsaws.
High level of safety – Thanks to the low-kickback bar and the reliable chain brake, the risk of accidents is lowered to the possible minimum.
Great durability – The tool has strong make and high-quality internal components plus continuous lubrication. You can expect it to work well for a long time to come.
2-year warranty This is standard coverage for this type of tool. Still, it is completely dependable and this is the most important thing of all.
Cons
Here are the disadvantages of the model which I discovered:
The gas cap is somewhat difficult to remove – Even though it may lead to slightly longer work interruptions, this is not a serious issue, but a small inconvenience. You shouldn't have a problem once you figure out the right technique to do it.
The air filter requires more frequent cleaning – Still, this isn't a major maintenance task. You can wash it quite quickly and adjust it back into place easily once it's dry.
Conclusion
There are lots of positives about the Remington RM5118R gas chainsaw. It's powerful and suitable for practically any type of wood cutting job. It is easy to use while being completely reliable. It is true that it has some drawbacks too, but they are minor. Overall, it is a fine choice.