Proper yard maintenance requires the use of a chainsaw, even if you have just one or two trees. You will also need one if you decide to cut your own wood for the fireplace.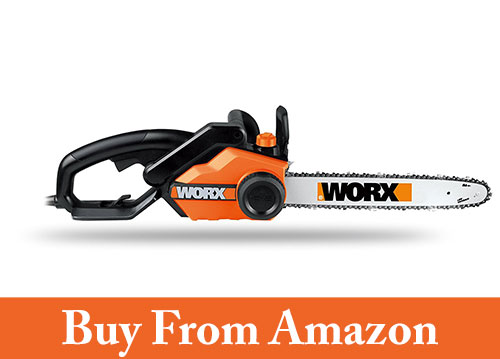 I am personally very fond of gardening and cannot go without one. While I was searching for the perfect tool, I learned a lot about the most popular models in the market and decided to review them to help others. Here is my review of the WORX WG303.1 16-inch chainsaw.
About the Product
WORX WG303.1 is a corded electric chainsaw. It has a 16-inch bar and can produce 3.5 peak horsepower. It comes with an auto-tensioning system, an oiler for constant lubrication and a full set of safety and comfort features. The tool weighs 11 pounds.
Features and Benefits
With its capability to produce 14.5-amp power corresponding to 3.5 horsepower and its bar measuring 16 inches, this electric chainsaw is suitable for basic gardening jobs and for tougher tasks too. It is big and powerful enough for pruning, removing tree branches and even for storm cleanup. You can expect to do every job effectively in little time without working too hard.
How about the weight? Is WORX WG303.1 heavy? With its 11 pounds of weight, this tool is not the lightest of its kind which you can find, but it is not heavy at all either. I think that it's got the sweet spot between functionality and weight. It can do harder jobs without making you feel tired quickly. I'd like to point out that if the unit used a battery, it would be considerably heavier.
The auto-tensioning system is undoubtedly the most notable feature of this model. There is a special knob for adjusting and maintaining the perfect tension while you are working with the chainsaw. You don't have to do any guesswork or to spend a long time tweaking the setting.
Since the risk of great tightening is eliminated, both the chain and the bar receive protection, which helps to extend their long useful life. Another huge advantage of the system is that it allows you to replace the chain easily and quickly without the use of any tools.
There are other smaller, but very important mechanical features of WORX WG303.1 which deserve your attention. The dogs at the base of the bar which are made entirely from metal allow for a high level of stability during cutting. This is important since you want to hold the bar perfectly straight not matter what kind of cutting job you do. The special sprocket on the bar nose is easy to keep in good condition and adds to the durability of the tool.
Another impressive feature of this corded electric chainsaw is the automatic oiler. You simply need to check the indicator on the reservoir to find out when you have to add new oil. This is the only job which you will have to do. Both the bar and chain will be lubricated automatically. Just remember to use the right type of oil for this particular model.
The electric tool is equipped with a safety chain brake. Its job is to stop the chain instantly when it makes contact with an object which cannot be cut. This is how the risk of the saw being forced back up is automatically eliminated. This anti-kickback feature of WORX WG303.1 works reliably to give you maximum safety.
Of course, it is your responsibility to put safety gear on and to work with the tool attentively.
The front handle has full-wrap ergonomic design. You can expect firm and comfortable grip for pointing the bar and chain accurately. The rear handle comes with rubber over molding to give you even greater comfort and stability while operating the tool. It should never feel too heavy.
Pros
 The primary advantages of the WORX WG303.1 chainsaw are:
Versatility – Thanks to its power and long bar, you can do a large variety of cutting jobs with the tool.
Easy to use – You don't need extensive experience or special skills to adjust the chainsaw and do a good job – the auto-tension system saves you time and effort.
Reliable performance – This electric chainsaw has smooth start with the push of a button and won't fail you. It cuts tree branches and trunks of various sizes and works well with both softwood and hardwood.
Safe and stable operation – You get complete protection from kickback thanks to the safety brake. The ergonomic handles allow for firm grip and stability.
Basic maintenance only – With the automatic oiler providing constant lubrication, you will just have to wipe the tool clean, if needed. There is no through carburetor cleaning and no need for mixing oil and gas.
Great durability – The chainsaw is made from high-quality materials and has excellent design. Multiple features help to preserve the tool in good condition for longer.
3-year warranty – The warranty is pretty long and comprehensive for this type of tool.
Cons
Negative sides of the product worth your attention:
You have to mind the cord while working with the electric chainsaw – This is not a major drawback, but if you are used to operating a gas-powered unit, you should be more careful, especially in the beginning.
Light oil is the only type of lubricant which works with this tool – Again, this is not a serious disadvantage, but it's actually not mentioned in the manual. If you add thick oil traditionally used for gas chainsaws, the unit simply won't get lubricated.
Conclusion
Overall, this WORX WG303.1 review finds that the chainsaw is a reliable and effective tool for doing light to medium wood cutting jobs. It works very well and has a variety of features which make your life easier and allow you to achieve perfect performance. You don't need any particular skills or lots of time to prepare the tool for work and to maintain it in good condition.
The chainsaw is designed and made to last for a long time and this is an important benefit to have. Given all this, it can be safely concluded that this electric chainsaw is a great choice.