There are many reasons why people seek to by a chainsaw. Most of us want to be able to do all tasks required for keeping the yard in perfect condition. These tools are used by professional service providers and by hiking and mountain biking enthusiasts. No matter whether you belong to any of these groups or seek such a tool for another reason, you would want to make the best possible choice.
I decided to share my experience as a shopper and users of chainsaws by reviewing top selling models at the moment. Take a closer look at my Tanaka TCS33EDTP/12 chainsaw review.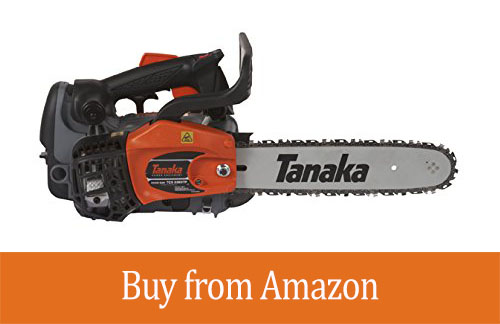 About the Product
Tanaka TCS33EDTP/12 is a top handle chainsaw equipped with 2-stroke gas engine. It comes with a 12-inch bar. Some of the notable features of this model include automatic oiler and Oregon chain.
In this review, I will go over the features of the model and discuss them in detail. I will also present a full list of its pros and cons. Let's get started.
Features and Benefits
The first feature requiring your attention is the PureFire two-stroke engine. It has displacement of 32.2 cc and produces 1.6 horsepower. It can be safely said that this small beast is quite powerful for its size. You can expect it to even hardwood timber perfectly.
The PureFire technology brings two major advantages which are worth pointing out. Thanks to it the chainsaw meets emission requirements perfectly. The lower volume of exhaust fumes produced makes this tool more environmentally friendly compared to its traditional counterparts.
The other key benefit of the technology is that it keeps fuel consumption down. You can expect the tool to have low running costs which are perfectly affordable. This is important especially for commercial users.
You can expect Tanaka TCS33EDTP/12 to have a quick and smooth start in practically any weather thanks to the half throttle choke and purge primer bulb. The engineers have done a good job in ensuring the reliability of the chainsaw. You shouldn't expect to waste time for starting the engine and getting down to business.
The tool is equipped with Oregon sprocket nose bar and chain. The sprocket is well designed, dependable, durable and easy to maintain. The nose bar is 12 inches long. This makes the chainsaw perfect for light cutting jobs including trimming. You can also use it to cut tree branches and small trees.
I can confidently say that it perfectly suited for yard maintenance and for clearing paths. The chain is sharp and very strong too. It is easy to adjust its tension. The tensioner on the side of the unit works flawlessly and allows for accuracy.
The automatic oiler of Tanaka TCS33EDTP/12 is gear-driven. It saves you lots of time and effort while giving the tool the lubrication which it needs to run smoothly and to stay in good shape for longer. You just have to remember to fill it with oil as frequently as needed. Choose the product in line with the recommendations of the manufacturer to get the best possible result.
This chainsaw comes equipped with an anti-vibration system which has advanced design. It does an excellent job with giving you stability when you work with the tool. Besides, the lower noise level makes the operation of the chainsaw safer as well as more comfortable. Another notable feature is the built-in lanyard ring. It makes climbing easier and this helps you to do an even better job more quickly. The rear air filter is very easy to access and to clean.
The design of Tanaka TCS33EDTP/12 is quite compact. The engineers have managed to put together all necessary features without taking a lot of space. The tool weighs 11.9 pounds. This is a fairly small weight for a gas-powered saw. Given the large amount of power which it makes, the tool is just ideal for those who want to do their work effectively without getting tired quickly.

Pros
The primary advantages of the Tanaka TCS33EDTP/12 chainsaw are:
Compact design – You can take this chainsaw anywhere with you in addition to using it in your back yard.
Powerful performance – You can cut even hardwood timber quickly and without glitches with the help of this tool.
Fuel efficiency – Thanks to the PureFire technology, the engine of this chainsaw uses less fuel to work and helps to protect the natural environment.
Easy to use – It's true that you will have to mix the gasoline with oil, but apart from this you shouldn't expect any kind of strain. The start is quick and smooth and it doesn't take much time and effort to adjust the settings.
Comfortable handling – Thanks to its small size and weight and its great precision, the tool is perfectly comfortable to operate even for someone without prior experience or special skills.
Simple maintenance – The automatic oiler is a great time-saver. You will find it very easy to take care of the rear air filter too.
Terrific warranty – For residential use, the chainsaw is covered for 7 years. This is over two times more than the average. It has a 2-year commercial warranty and a 1-year rental warranty too.
Cons
I could only find two drawbacks and this is a good thing. Here they are:
The chain bar bolt may get loose over time – This means that it will require frequent checks and tightening when the need arises. This is not a serious drawback, but it is definitely something to watch out for.
You may feel light plastic smell while working with the chainsaw – This is because the exhaust fumes go through a plastic grill. This small issue is neither serious nor dangerous. You probably won't pay attention to it after the first few uses of the tool.
Conclusion
Can this Tanaka TCS33EDTP/12 review conclude that the chainsaw is worth buying? This tool is powerful yet light. It is fuel-efficient and safe. It is easy to adjust, to work with and to maintain. You can expect it to handle even more challenging jobs perfectly. Overall, this chainsaw is a great choice, especially for residential users.